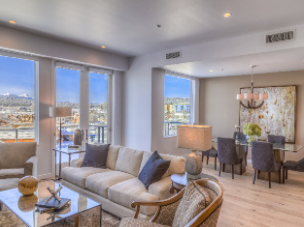 Depending on your decor and furnishings, some rooms in your home may appear to be smaller than their physical size. Since buyers are typically looking for as much space as possible, it's important to make all your rooms seem, well, roomy!
Here are some tips that will help:
Consider removing any unnecessary pieces of furniture.
Experiment with rearranging the furniture. Determine which set-up makes the room look its best.
Position tall furniture, such as armoires, on the longer walls.
Lighten up on knick-knacks and similar items on tables and surfaces.
Use mirrors to help create the illusion of more space.
If possible, remove double or queen size beds from small bedrooms and replace with twin beds. (Beds can be rented for home staging purposes.)
In smaller bathrooms, keep shower curtains open.
During viewings, open the window coverings. This leverages the most spacious room in the world – the outdoors!
Make sure each room has ample lighting.
Your goal is to make each room in your home seem inviting, spacious and comfortable.